Paris To Reims Destination Wedding
As a wedding photographer, a sense of excitement and joy is felt when you are chosen by clients to capture their special day. They put their trust in our skills to make sure that we will be able to capture the moments that will be remembered for years to come.  It is especially remarkable when you are invited to a destination wedding, as you are included in a more personal and intimate day. We must admit, it is somewhat faltering to be asked to shoot at such an event as the level of trust is so high. Not only that, but the groom himself is actually part of our team at de Belle Photography!
Jean-Noel & Meredith held their wedding on July 2nd, 2013 — a mid-week celebration on a Tuesday. After the morning ceremony, their families gathered for a quick brunch, before seeing them off at the airport that same afternoon. 7 hours later, we all l anded in Paris, France.  An unusual wedding day timeline, which resulted in very original photos, and a true reflection of the couple.
Spending one day of relaxation and sight seeing, we then met up with the couple for their first photo session which was done in The City of Love, Paris. This included photos with the famous Eiffel Tower city-scape, as well as a stop at the historic Café de Flore, one of the oldest and most prestigious coffeehouses in Paris.
Leaving by train the next morning we headed towards champaign country; Reims which is east of Paris. Travelling at 225KM an hour we were there in no time. For the second session, the bride contacted a champagne house in lower Reims, who welcomed us with open arms.
Romantic moments were captured at the Pommery Champagne house where we walked through their underground cellars passing dust covered bottles dating back to the 1800's. After climbing the large staircase to ground level, we then sat down for a tasting and to a toast to an already incredible trip.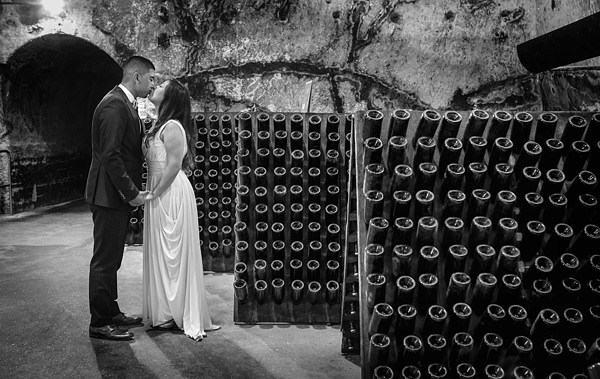 We then headed back to central Reims where we visited the magnificent Cathédrale Notre-Dame de Reims, which totally blew our minds with it's detail and magnitude. We arrived at the church just as the light was coming through it's huge glass windows. The setting simply could not have been more perfect.
After dinner we then waited for sundown where the entire town crowds in front of the cathedral for a light show. The story of the Cathédrale Notre-Dame de Reims is told through visuals that are projected on it's facade. We unknowingly saved the best for last, a true treat to Jean-Noel and Meredith on their special day.
Jean-Noel explains: It is quite unusual for me to write an attestation through the perspective of the groom. Normally, I am one of the witnesses, being able to share and capture the day behind the camera. Meredith and I always knew that our longtime friend, Evan, would be the one to take our photos, and we rejoiced when he accepted to document our wedding as soon as we explained to him our travel itinerary.
I am very pleased to say that these photos truly captured every part of France that we loved. The charming streets of Paris, the savory espressos in the cafés, the elegant champagne experience, the breathtaking architecture of the cathedrals and monuments; we are able to re-live our emotions every time we look through our wedding photos.
This is what the DeBelle & Positive Pictures team aims to capture, and I am glad to be a part of it.
Thank you Evan!
Photos by Evan Shuster, Main Photographer
Words by Jean-Noel Quilatan & Evan Shuster, Main Photographers
ALSO SEE EVAN'S TRAVEL PHOTOGRAPHY FROM THIS TRIP
de Belle Photography – Montreal Wedding Photography, Destination Wedding Photography