Destination wedding in Hawaii – Juanita & Marco
Hawaii; the ultimate destination for many travelers seeking out beautiful beaches, orange sunsets, garden isl ands, and amazing weather. De Belle Photography & Positive Pictures were fortunate enough to be chosen to capture an incredible wedding that took place on a Hawaiian cruise.
Juanita and Marco along with 20 family members celebrated their extraordinary wedding trip last month. Three days into the cruise, the preparations began, Bride and Groom each in their own staterooms, prepping and primping themselves for one of the most important days of their lives. When both Juanita and Marco were ready for the ceremony, everyone convened on the deck of a magnificent cruise ship where they were married in the middle of the Pacific Ocean by the captain himself!
Resting for a day after the wedding, we began filming the Lip Dub and busted out some lyrics of "Lucky" by Jason Mraz & Colbie Caillat. Shy at first, the family slowly got into the mood and made it happen! Having everyone there (including our crew) made the experience that much more exciting and memorable. Who could not have fun with the sun shining, a refreshing pool at your feet, a perfect drink in your h and, crazy jokes being shared, and yes… even a few rounds of Pictionary thrown into the mix!?!
Once we docked in Hilo (Hawaii) everyone was excited to see what the isl ands had to offer. Juanita and Marco were kind enough to let us join them on their excursions. So why not bring the cameras along? We all enjoyed kayaking, snorkeling, visiting the majestic volcanoes, seeing historical Pearl Harbor, of course surfing on Waikiki beach (can't go to Hawaii and not surf?), and the icing on the cake – seeing the ocean floor of the Waikiki beach area as we were transported in a submarine 100 feet below water level.
The highlight for many was the incredible Kauai Garden Isl and. We shot the trash the dress session on an secluded beach on the North Shore by the name of Lumahai. After a fast 45 minute photo/video blitz surrounded by white s and, black porous basalt, and lush green tropical forests, we all headed down to the south of the isl and for a helicopter ride. We had the pleasure of seeing some breathtaking l andscapes and filming locations of Jurassic Park and Pirates of The Caribbean. To see some of these shots you can click here.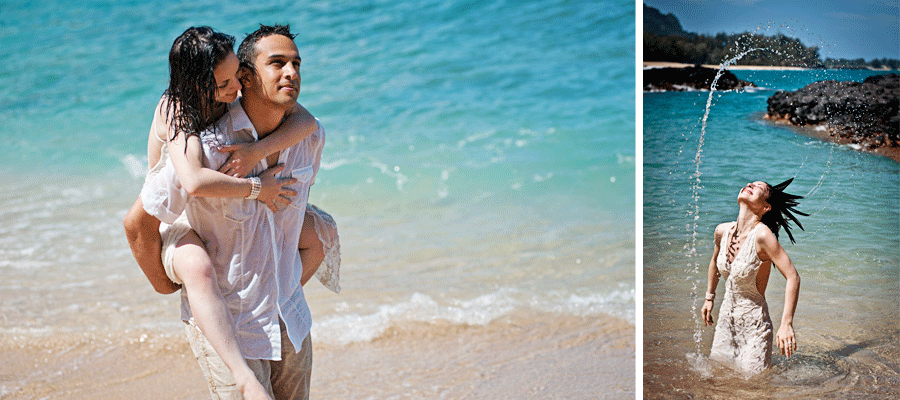 The end of the trip was bittersweet as the cruise was a once in a lifetime opportunity. We are truly grateful to Juanita, Marco and their families for making us feel so welcome and for giving us the opportunity to work in such a beautiful and romantic environment. Thank you!